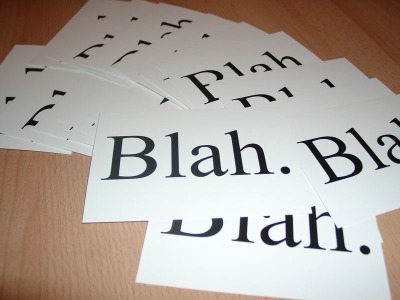 Did my recent absence launch you into the possibly that I had maybe decided to stay in Scotland for the rest of my life? Believe me when I tell you that I seriously considered it, but I'm just far too practical for that type of rash decision.
And I would've missed fresh vegetables far too much.
Much has transpired in the past month…
In true celebration of our U.K. Adventure, I made a proper Photobook on Shutterfly. I tend to be the person who takes eleventeen million pictures, uploads them to my computer (or Flickr), and then they never see the light of day again. I vowed that I wouldn't do that this time, and I've even tossed around the idea of putting a few of the pictures onto canvas. That decision will come later though…
For now, I started with a Shutterfly Photobook. Baby steps.
Click here to view this photo book larger
After we got home from our vacation, I wasted no time digging into a new home improvement project. Actually, this project came in sort of a round-about way after we discovered that our living room had hardwood floors throughout.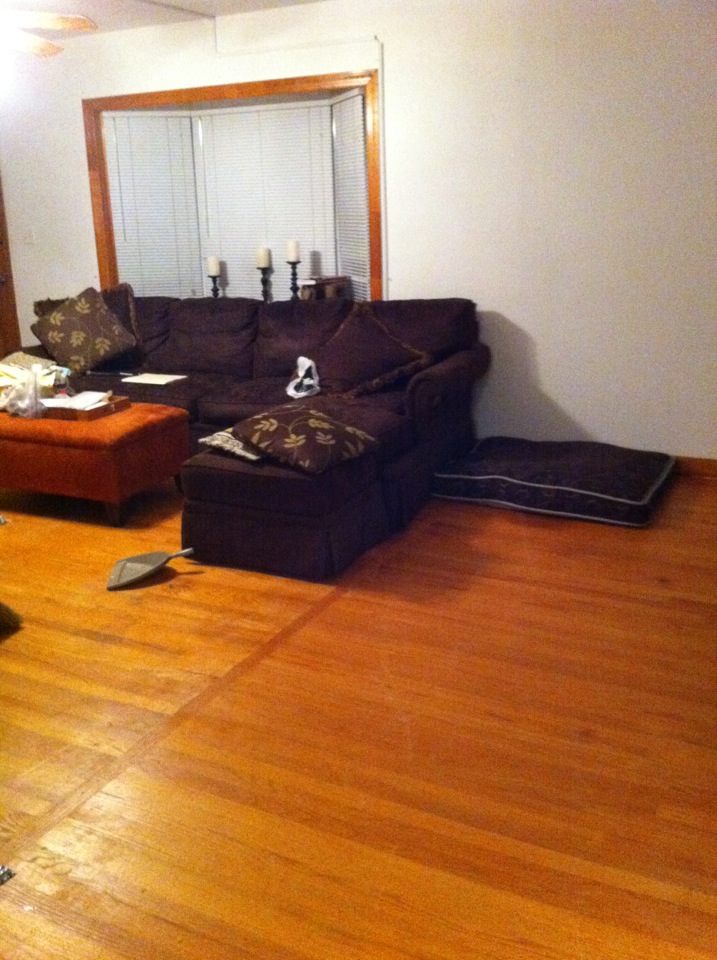 First, I jumped for joy over the fact that we could scrap our disgusting blue carpets sooner rather than later (and save ourselves some serious cash money), and then I decided that in addition to the blue carpet, my Gazelle and his brother needed to also rip out the cat pee carpet in our sun room/dining room. It was a monstrosity, and it was making our new house smell like a farm.
That called for a complete overhaul of the sun room, naturally.
And in all honesty, I'm kind of proud of myself. This was only my second experience using grout, and I got this project (mostly) finished over the course of 2 weekends. I was so proud and excited and in love with the new room that I took a billion pictures of what a wonderful job I had done.
Then, I lost my point and shoot camera.
Shoot.
So, iPhone pictures are the best I can do.
This is the room in all of it's "before" glory, taken before we moved in. The picture is kind of dark, but nothing about those flat-painted-white walls, 1980 ceiling fan, or berber carpet screams "dine in me". I only wish I could convey to you how terrible this room smelled…only then could you fully understand why I was in a frenzy to paint and tile it ('set it ablaze' and 'blow it up' were two other options that I considered).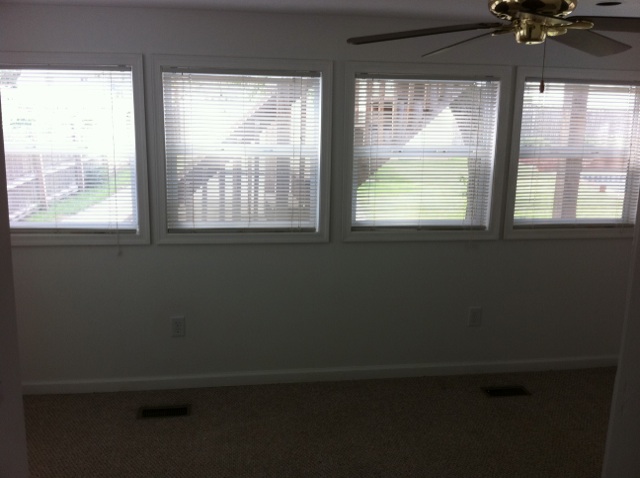 Here is a progress picture with the walls painted, but concrete floors still blazing…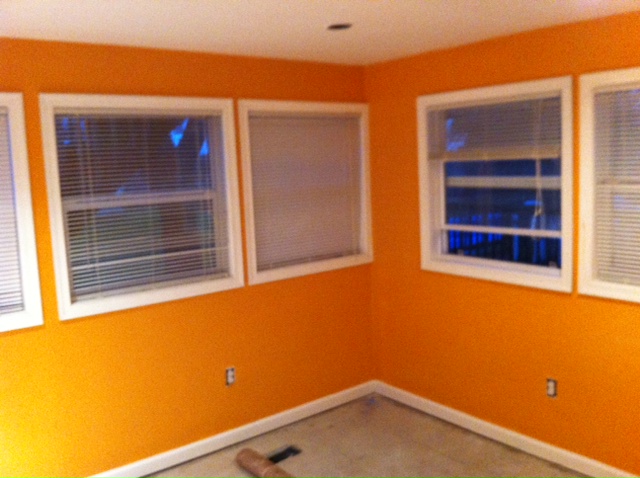 Does the color freak you out? It freaked me out at first too. Luckily, the iPhone is not really doing it justice. It's not quite as "pumpkin" as you might think. I wanted something bright and cheery, and orange seems to be my happy color lately, as also evidenced by the rug I recently bought for the living room…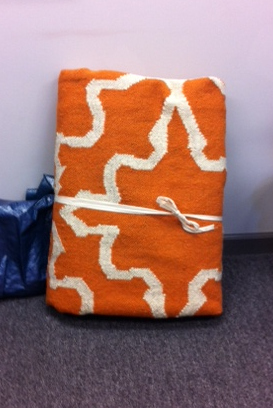 I'm a new fan of orange. Maybe it's the hormones.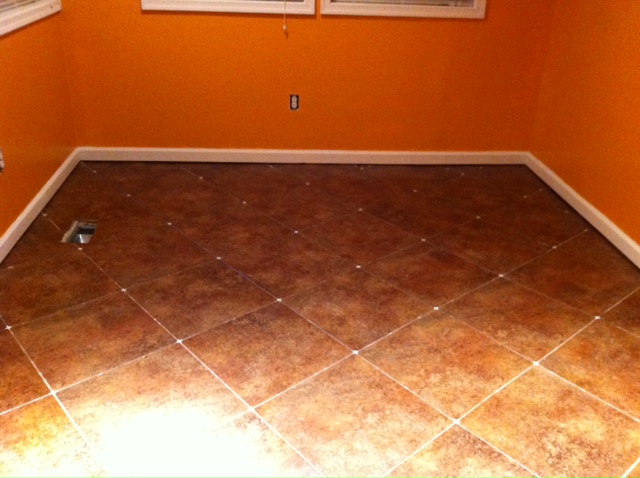 I decided to use a groutable vinyl tile in the room because it was a) easy to lay, b) resilient, c) didn't require any crazy tools, and d) quick. This is what it looked like before adding grout.
This picture is the view from the kitchen doorway, and if you look at the wall to the immediate left bottom corner, that is actually a more accurate depiction of the color.
I'll share the fully-finished pictures with you in a bit, since I'm still deciding what else needs to happen as far as art and window treatments.
And now, I'm fully embroiled in "get the nursery ready for baby" mode! However, this project is becoming much more difficult as my belly expands, and since I am now almost exactly 25 weeks pregnant, things are getting a little wobbly. I'm starting to become even more clumsy than I was before (as if that was possible), so I'm a little daunted by the idea of climbing up ladders and such.
I also plan to share progress pictures of (spoiler alert) baby girl's nursery, and start trying to get into the Christmas spirit. I suddenly have the urge to tell you how I've been too "busy" to decorate and prepare for Christmas (lots and lots of traveling lately), but we're all busy, aren't we?! This weekend, more traveling, but I'm taking my annual weekend trip to Christmas Candylane in Hershey, PA to spend time with my NY family (which is a major treat since I was just with them last weekend)!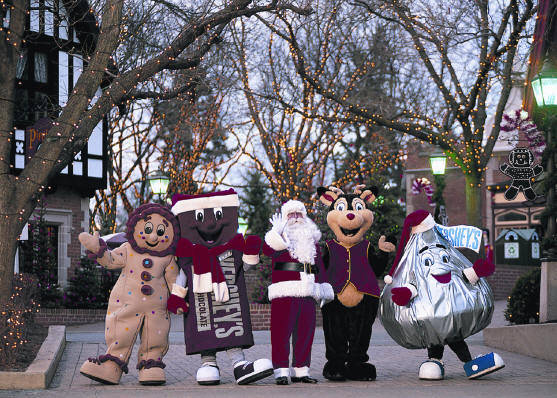 So, no complaints from me about this trip. In addition to the color orange, I'm also a huge fan of chocolate these days! I definitely blame that on the hormones.
Through all of my seasonal activities and traditions this year, the one thing that keeps ringing in my head is "next year at this time, you'll have a baby!" I still can't really believe that I'm having a baby in ~15 weeks, and I can't even fathom how much different my life will be next year at this time.
Scary stuff.
Hopefully, this one brain-fogged, slightly schizo update post will be the last like it, and I can begin blogging with some semblance of normalcy from now on. I feel like there is so much going on that I want to share, but it's all happening so fast!
I probably need to get used to that…it's not going to change anytime soon!