TRX Try It
Some of my most popular posts are those in which I talk about my TRX Suspension Trainer workouts.  We love the TRX in our household, and I personally use it about twice per week.  Everyone is curious about the TRX, and everyone wants to try it, but nobody wants to spend $200 on something that they're not sure they'll like.
I'm a middle child, and I want to help.
I want you to try a TRX Suspension Trainer without the initial $200 investment.  I'm pretty sure that you're going to love it.  Now, keep in mind that I'm completely going out on a limb here, and I know that there are snaky people on the 'Internets', but I'm just going to throw caution to the wind.
That's how I roll.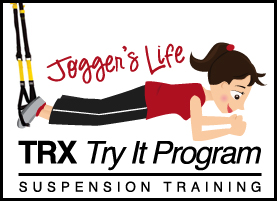 You can try out a TRX Suspension trainer for 30 days, and you will only pay as much as it costs you to ship it back to me after your 30 days is up.  If you buy a TRX Suspension Trainer through my affiliate link after you return the one you borrowed, I'll even refund that shipping cost back to you via Paypal.  Just send me a copy of your TRX store receipt, a copy of the receipt for returning my TRX, and your Paypal address, and I'll show you the money.
Step 1:
Program Requirements:
You must be a real person living in the United States or Canada.
You must have your own blog that you regularly write on.
You must commit to use the TRX regularly as part of your current workout routine.
You must commit to blog about your experience A MINIMUM of once per week for 4 weeks (sending me the weekly link to the post), AND be willing to have your experience posted (or linked to) on Jogger's Life.
You must commit to link back to www.joggerslife.com in your blog posts.
You must return all of the equipment after 30 days.
If you decide that you want to buy a TRX Suspension trainer after your 30 day trial, purchase through my affiliate link: http://cot.ag/atdAVU
You must NOT already own or have access to a TRX Suspension Trainer.
Are you up to the challenge?
Step 2:
Just fill out this easy form. I promise I'll never sell your info or use it for evil. That's lame.
Step 3:
Wait for me to email you details about when you'll receive your TRX to try. Normally, you should hear from me within 7 days. If you don't that means that I probably flaked, so you should email me. I'll do my best not to flake, but you know..
Step 4:
Sweat!
Obviously, this program and the requirements that I've laid out are going to be on the honor system. I'm not going to crucify you if you don't follow all of the rules (save the one about returning the equipment), but I will be linking to your weekly posts, so everyone will know if you're not doing your thing. No pressure.
And, if you want to buy your own TRX when all is said and done, I'll make a small commission on it. Like I said, that commission will help to offset my costs, but it is not the main objective. I just want you to be able to step outside of your fitness "box", and go out on a limb of your own.
It's fun out here on the limb. Join me.